in Philadelphia, deposited his lunch on the sidewalk next to us while we were shooting. (If anyone needs a high quality barf sound effect, we've got it.) We had an interview scheduled at the Philadelphia Housing Authority. We had no scouting time, and there wasn't an available conference room. So we were forced to shoot in a cramped office. We made the best of a difficult situation. We put the camera out in the hallway and shot through the open door. We moved out interview subject out in front of his desk- so we had some separation from the back wall. While not ideal- and very hard to control sound (phones ringing, etc…) we made it work. When you see the finished product you will never know of our production difficulties. The subject gets about a minute of screen time, much of it covered with b-roll footage of Philadelphia houses using our client's product, and we shot him in a tight composition so we don't notice we are in a small office.
Below are the steps we take when shooting single subject interviews. Specific notes and suggestions about the production follow this list, along with a few tricks of the trade.
We usually set up all the production equipment (either film or video gear) in this order prior to the talent arriving. Plan on 40 – 60 minutes of set up time.
o Monitor
o Tripod
o Camera
o Headphones
o Chair for Talent
o Chair for Interviewer
o Key Light with Chimera
o Edge Light
o Background Light
o Background
o Boom Mic for talent
o Lavaliere Mic for Interviewer (optional)
o Set Camera for Color Temperature
o Set Levels for Mics
o 60 seconds of bars and tone
o 10 - 20 seconds test recording video and audio
o Verifying picture and sound on camera playback
o Go to the washroom
o Wait for the talent to arrive

(continued on page 5)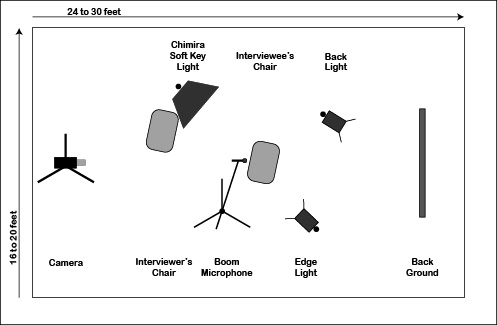 CLICK TO ENLARGE DIAGRAM
Home | 1 | 2 | 3 | 4 | 5 | 6 | 7 | 8 | 9 | 10 | Printer Friendly | Close Window
Chicago Film and Video Production and Post Production Services
for Television Broadcast, Tape, DVD, iPod or for the web.
Telephone (847) 234-4700 • www.windycine.com
© 2007 Windy Cine, Ltd.
All Rights Strictly Reserved.